At Silk Builders we offer our unique new home construction services on the stunning Sunshine Coast. With our team of highly skilled professionals and a wealth of experience in the construction industry, we take immense pride in turning your dream home into a reality.
Building Your Dream Home:
Building a new home is an exciting journey, and we are here to guide you every step of the way. From conceptualization to the final walk-through, our dedicated team will work closely with you to bring your vision to life. We understand that your new home is more than just a structure; it's a reflection of your unique lifestyle and personality. Our commitment to quality craftsmanship and attention to detail ensures that your new home is built with the highest standards, creating a space you and your family will cherish for years to come.
Custom Designs to Suit Your Lifestyle:
We believe that every homeowner deserves a home that perfectly fits their lifestyle. Whether you have specific design ideas or need inspiration, our talented director Cheay joined with our architects and designers will collaborate with you to create a custom home design that aligns with your preferences and needs.
Transparency and Communication:
At Silk Builders, we understand the importance of transparent communication throughout the construction process. We keep you informed at every stage, providing regular updates and addressing any queries or concerns promptly. Our goal is to ensure that you feel confident and involved in the construction of your new home.
Quality Materials and Craftsmanship:
We take pride in using only the finest quality materials for every aspect of your new home construction. Our team of skilled craftsmen, along with our network of trusted suppliers, work to ensure that your home is built to last and withstands the test of time.
Timely Completion and Budget Management:
We understand the importance of delivering your new home on schedule and within the agreed budget. Our project management ensures that construction progresses smoothly, and we proactively address any potential challenges that may arise. Rest assured that your new home construction will be completed with precision and efficiency.
Serving the Noosa Area
As a master builder in Noosa, we are deeply connected to the community and take great pride in contributing to the region's architectural landscape. We serve various local suburbs, and are familiar with local building regulations and council approvals.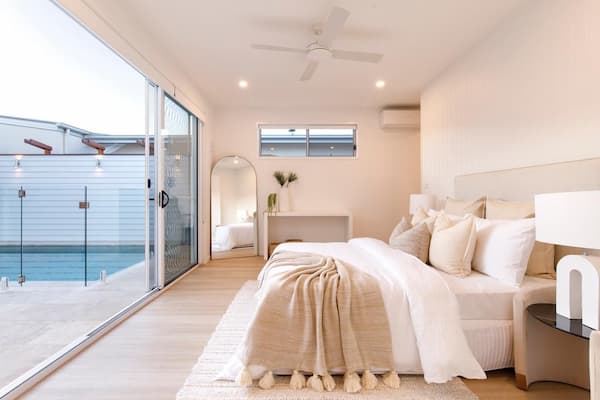 NEW BUILDS PACKAGES
We offer Packages from $60,000 (plus gst) for Self-Standing New Builds for Granny flats, Studios or Offices.
We liaise with very well know Architects and Designers in and out of Town to make sure your project and ideas are well look after from the beginning. We offer the Construction package including all the documentation for the Building / Construction approval if needed or we will guide you in the procees.
We also have premade plans for New Homes and New Builds which we can make your own very easily. Our systems are flexible for changes and customers' requirements.
Let's Start Building Your Dream Home:
Are you ready to embark on the journey of building your dream home? Contact us today to schedule a consultation and discover how we can turn your vision into reality. Our team is eager to bring your new home construction project to life on the beautiful Sunshine Coast.